Menu
Beers

Newsletter
Merchandise
Brewing Process

Directions
Contact Us
William Faulkner

Blue Ridge Brewing Company
709 West Main Street, Charlottesville, VA 22903, (804) 977-0017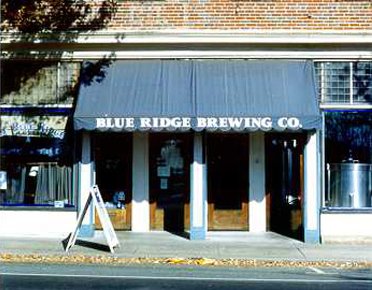 The Blue Ridge Brewing Co. was founded by brothers Paul and Bok Summers in May of 1987. We are Virginia's first brew pub, and one of the first on the East Coast. Our dedication to fine food as well as fine beer is what has set us apart from the crowd and has allowed us to grow and prosper when others around us have failed. We are a full service restaurant and bar with an outstanding wine list and complete range of liquors to go along with our excellent beers.
We feature a broad menu that utilizes many local products as well as the latest in culinary trends, all prepared by head chef Paul Summers. We are a fine dinning restaurant with tablecloths and cloth napkins, but we still offer plenty of great snacks and appetizers that are perfect for sitting at our expansive bar and cocktail section and knocking back a few beers and watching a game.
Inside the Blue Ridge Brewing Co. you can see the true process of micro-brewing. We brew our beer to assure the freshest quality of beer you can find. Our beers are made from the finest ingredients. Head brewer Bok Summers can be found either in the brewery, or behind the bar pouring his products, and he is always open to suggestions and comments. We hope you enjoy your visit to our website, and please feel free to email us your comments.
---
fatpat Software · PO Box 1785 · Charlottesville, VA 22902 · (804) 977-1652